How to Attract Rich Men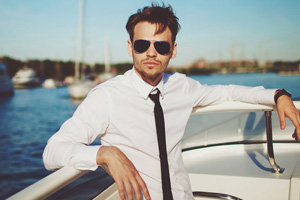 One of the greatest dilemmas for many women is just how to attract rich men. Given that a very high percentage of women aspire to marry a millionaire or date rich men, this is a topic which needs some careful thought if the objective is to be successfully met.
Indeed, there is no point dreaming about meeting and dating rich men if you don't have a strategy and do it in an ad hoc way. It certainly won't be effective or likely to achieve anything if you do things on the spur of the moment or don't have a plan!
To attract rich men, we can consider that there are two key parts, namely how you look and behave and, secondly, how you go about trying to find such men.
Most women like to look their best whenever possible but, to attract rich men, you will have to look that extra bit special; it is, therefore, worth spending just a little extra on stylish clothes and grooming (including make-up) to make sure you stand out from the crowd.
Some women take elocution lessons in order to be able to speak in a more refined way and further enhance their presentation by studying etiquette in order to impress the millionaire or rich man she is aiming to attract.
Education is always important, especially if the rich man you wish to attract is running a business or businesses and might need you to participate in some meetings or at social events as his de facto partner. Continued education is always a plus and, for some women, being seen to go on from achieving (for example) a Bachelor's Degree to get a Master's is a sure way to impress many rich men.
Demeanour and overall behaviour is important when looking for a rich man, especially if he is moving in high level social circles. He won't want a lady to speak out of turn or perhaps imbibe in too much alcohol if he is trying to impress his social circle. For any woman who is starting a relationship with a rich man, there will be a need to know when to be available for him when he's stressed out with work-related issues or something else.
Now we come to the actual searching for rich men: either you spend some time building up a good social network, finding out places that rich men like to frequent for business purposes or for leisure. These places might include, for example, financial seminars or exhibitions about yachts or sports cars, or sporting events such as tennis at Wimbledon or some of the more well-known horse races; maybe famous bars and night clubs which tend to cater to an up-market clientele, as well as high-end restaurants.
Of course, all this takes considerable time and effort but, if a woman is determined to find and date a rich man, then it will be time well spent.
Another, perhaps easier option to attract and date a rich man is to join one of the better quality online dating services which caters specifically to women looking for rich men and for rich men seeking attractive women.
Most sites are easy to join and access to all sorts of rich men is almost immediate; it is, of course, possible to do all this from the comfort of your own home and take your time to get to know some potential candidates before actually setting out to meet them. A well written interesting profile is essential, setting out some of your likes and dislikes, hobbies, and life objectives. Quality photographs are also important and, again, it's worth spending some extra time (and money) to try and make yourself stand out from the crowd in order to attract a rich man to suit your requirements!
Happy hunting...