Dating Tips for Meeting Rich Men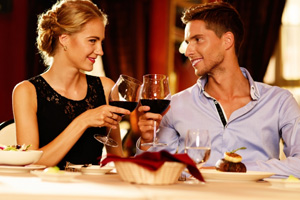 It's not unusual for many women to think that they know all there is to know about the best ways to meet rich men and hesitate to accept dating tips! But meeting a rich man is much more of a challenge than looking for and trying to date other men - partly as there's so much more competition from other women looking to do the same!
Then, we have a key issue that many rich men are so focused on their business or growing their company and, probably, becoming richer, that they have little time to spend on dating and looking for a new life partner. So, the time available for a young or older woman to catch the attention of a rich man will be very short and she needs the make the most of it. In any event, no woman wants to waste precious time looking for a rich man only to find that he is not really available, ie maybe he already has a girlfriend, wife or partner, or it could be that he is not interested in dating at this time.
So, for any woman looking to meet rich men here are few great tips to help maximise the results that she wants to achieve.
From the physical and mental perspectives:
It almost goes without saying that any woman looking to meet rich men will need to dress well, be nicely made up and always aim to look her best; in many cases rich men like their female partners to travel with them to functions and events (both domestically and internationally) and sometimes even accompany them to business meetings, where it may be necessary to interact with his clients or peers;
Don't make it obvious that you are overly keen to find a rich man; take things as they come and don't try to force your rich man to be with you every day or try to make the relationship move faster than it should; after all, if you are looking for some commitment you really need to get to know the person you are hoping to be with for the long term before rushing into things;
Try to be understanding and not overly demanding, especially with rich men still running profitable businesses, as they will invariably be under stress during work times and need to be able to concentrate on making major business decisions without too many personal distractions.
Of course, there are many more tips regarding behaviour and appearance but it's worth also thinking about the most effective ways to meet a rich man - and this needs to be of primary concern. Unless you are living in a major city where there is a fair degree of wealth around or are engaged in a profession which brings you both professionally and socially regularly into contact with rich men, then reality is that online dating is going to be one of your best choices.
It's rather easy to search the internet and look through some of the specialised rich men dating sites now available and some top-class tips for using such sites effectively include:
If a rich men dating site offers a free trial, try this out and use the site to see the types of men on the site, where most are located; and, of course, if any appeal to you;
Check out the terms and condition offered by the rich men dating site to see if they are reasonable for what they are offering; is joining easy and quick and can you easily terminate your membership should the end arise, or you find a rich man and no longer wish to use the site's services;
Ascertain if the rich men on the site been verified as genuine; does it provide photos of the men looking for partners;
Does the site make it easy for you to communicate with the rich men who appeal to you...?
For women looking to meet rich men, and who wish to maximise the effectiveness of their search, dedicated online dating sites are more than likely going to be the answer; follow some of our great tips to help you get ahead in your search....